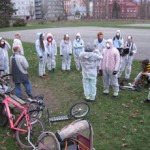 Fairy-Tales Creatures Club whom members are ordinarily monitored by special Blue Team "Couter Organised Crime Unit" in Czech Republic contributed to the Climate Games and accomplished a critical mass bike ride called "Tour de Climate".
This infamous group mounted bicycles in their native heath on Sunday 29th of November. With groovy soundsystem they created a lot of enjoyment and festivity in the streets. When they arrived in front of the local branch office of RWE company – intenrational climate crimminal corporation – they started circling ride on a roundabout while car drivers were honking encouragingly. This way they sent greetings to friends who fight against destruction of Hambach Forest. This cyclone was for you!
Few more climatic events uncommon in the Central Europe followed at next roundabouts. Inhabitants of the Central Europe should become accustomed to cyclones, with continuing climate change. Moreover according to climate models cyclones will be more and more powerful.
Thereafter the fairy-tale creatures conjured banner calling: ?We have to heal addiction on fossil fuels!? and put it on fence of the biggest greenhouse gas emmiter in the region – the heating plant in Olomouc city. Magic of fairy-tales creatures can be done by all courageous people. Let's follow our primal instinct – direct action.